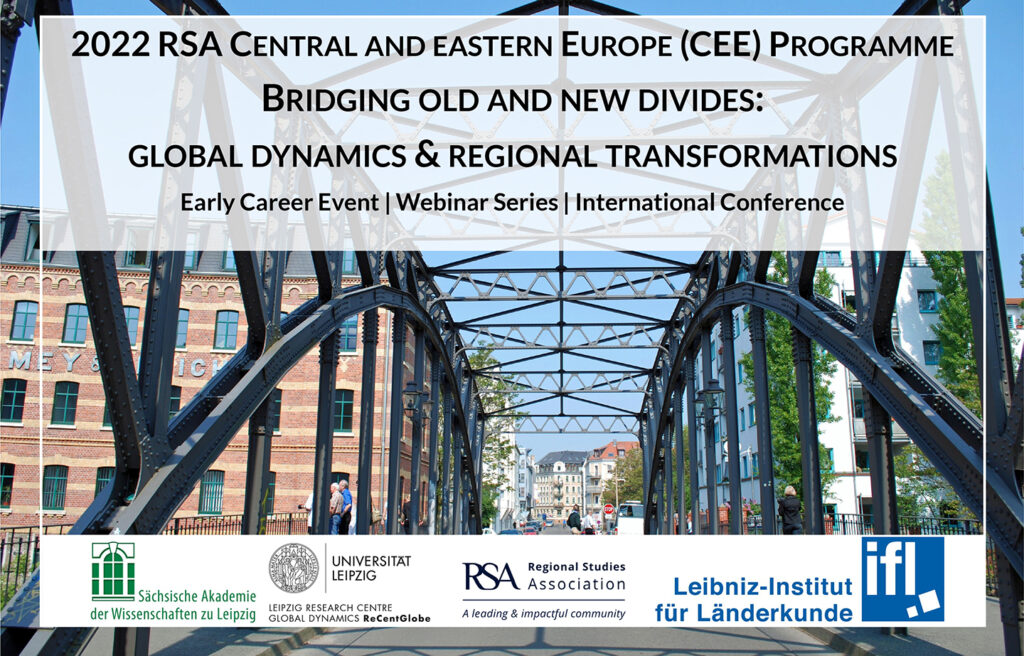 The Call for Sessions/Papers for the RSA Central and Eastern Europe Conference "Bridging Old and New Divides: Global Dynamics, Regional transformation" from 13 to 17 September 2022 in Leipzig is open. The conference will be held in cooperation with the Leibniz Institute for Regional Geography, the Research Centre Global Dynamics of the University of Leipzig and the Saxon Academy of Sciences and Humanities in Leipzig.
Special session submission deadline: 21 March 2022
Abstract submission deadline: 16 May 2022
Regional development is often treated as being based on a clear and consensual perspective on the kind of progress needed. But academic as well as political debates are far less univocal. Regional studies in the past three decades have articulated a range of new and old social, spatial, economic and political divides, especially between urban centers and peripheralised non-metropolitan areas that stem from the dominant regional development approaches in CEE and beyond. Existing research has emphasized the capacity of Neoliberalism to reinvent and consolidate itself after each juncture of crisis, which has been at the expense of foreclosing alternative developmental paths. A range of recent processes, such as the so called 'migrant crisis', rise of illiberal populism, questioning the European project, the rising economic influence of China in CEE, adaptation to climate change and recently the COVID-19 pandemic, have sparked further anxieties and fears of new divides and exclusions.
The RSA CEE Conference in Leipzig will open up a dialogue around these divides, exploring how they shape current research and regional policy in, across, and beyond CEE. The roganisers are particularly keen to see research which views globalisation not as a recent process only, nor simply emanating from an assumed centre creating all kinds of peripheries, but one that is deeply rooted in a longer process of adaptation to the global condition and over-time transformations of the capitalist world economy. The conference intends to challenge current and highlight new research perspectives to regional development in CEE, bridging disciplinary, temporal, socio-spatial, scalar, knowledge production, policy, material-immaterial and theory-practice divides.
Contributions from academia, politics and practice are welcome on topics such as (alternative) economies, EU and regional policy, political geographies/new thinking in CEE as well as society and culture. Details on the programme and submissions can be found on the conference website.